In the olden days, slot machines were mechanical machines with physical reels and a lever to pull, but today a vast majority of the world's slot players enjoy video slots displayed on a screen instead. This has also made it possible to create slot games that doesn't have any reels, although most slot game developers are still pretty conservative and stick to the basic three-reel or five-reel configuration for the basic game, saving their unleashed creativity for bonus game rounds.
How do I bet on a slot machine?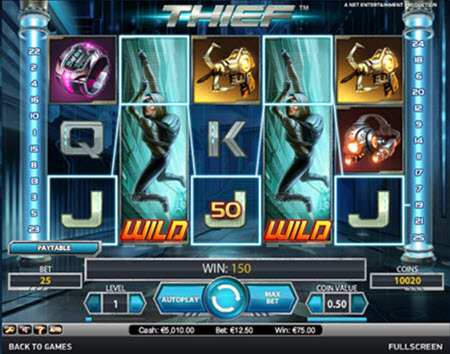 This depends on which slot you want to bet on, but generally speaking, many video slots will give you the opportunity to adjust three things: coin value, number of coins wagered per betline and how many of the total betlines to bet on.
Example:
You get to select a coin value from five different alternatives: $0.01 / $0.05 / $0.10 / $0.50 / $1
You select how many of the slot's 25 betlines to bet on, from just 1 to all 25.
You select how many coins to wager per betline.
In this example, the smallest possible bet is $0.01 x 1 betline x 1 coin = $0.01 wagered on one round of play. The largest possible bet per round is $1 x 25 betlines x 4 coins = $100.
You can normally not pick and chose exactly which betlines to bet on. This means that if you for instance select to bet on five betlines, you will automatically bet on the betlines 1, 2, 3, 4, and 5. You can't pick and chose betlines, e.g. play only on the betlines 7, 10, 13, 18, and 21.
Special symbols
Slot machines often have one or more special symbols that are more powerful than the standard symbol. A game developer can for instance elect to include one or more wild symbols capable of substituting for the symbol your need to form a winning combination.
Scatter symbols are also popular. If a large enough number of scatters are displayed at the same time, you will get a reward even if they don't line up pretty on a betline like normaly symbols need to.
If the game have a bonus round, special bonus symbols can be included capable of triggering the bonus round. With some slots, the scatters serve this purpose.
Examples of famous online slots
Gonzo's Quest
Mega Fortune
Starburst
Thunderstruck II
Big Bad Wolf
Castle Builder
Mega Moolah
Robotnik
Holmes and the Golden Stones
Foxin' Wins
Leprechaun Goes to Hell
Hugo
Fortune Teller
Mermaid's Fortune (a slot for Live Casinos Online!)
Examples of famous slots from the past
Sittman and Pitt's Poker Machine
Even though it wasn't called a slot machine back then, the gambling machine invented by Sittman and Pitt in Brooklyn, New York in 1891 is basically the great grandfather of today's slots. This machine had five drums capable of holding a total of 50 card faces.

A gambler would insert a nickel and pull a lever, which would make the drums spins. If you got a good enough poker hand when the drums stopped, you were rewarded. This machine couldn't pay out money; instead you would get something from the establishment housing the machine. So, if you were playing in a bar, a pair of kings could be enough for a beer, while something rarer like four of a kind or a straight flush might earn you a drink or cigar.
Getting a Royal Flush was even more difficult than in normal poker, because the machine only held 50 cards, not 52, and most establishments would pick out a ten and a jack to get the deck down to 50 – thus sharply decreasing the chance of a Royal Flush.
Liberty Bell
The first slot machine with an automatic payout mechanism was the Liberty Bell, invented by Charles Fey in San Francisco in the late 1800s. This slot had three reels adorned with five different symbols: spades, hearts, diamonds, horseshoes and the Liberty Bell.
The biggest possible win was ten nickles, paid out when three Liberty Bells lined up in a row.
The Liberty Bell slot machine became a huge success. It was much easier to maintain than other gambling machines, and was soon installed in all sorts of establishment, from saloons and brothels to barber shops and bowling alleys.
Money Honey
Slot machines with basic electromechanical components began to appear during the first half of the 20th century, but it would take until 1963 before the game developer Bally launched the world's first fully electromechanical slot machine: Money Honey.
Fortune Coin Co's Video Slot
The first true video slot machine was created in California by Fortune Coin Co in 1976. The first production units were tested out in the Las Vegas Hilton Hotel, using a modified 19-inch Sony Trinitron color reciever for the display and logic boards to run the slot machine functions. After being modified to reduce the risk of cheating, it was approved by the Nevada State Gaming Commission and began to appear in various casinos throughout the city.
Three Bags Full
One of the first video slot machines with a "second screen" bonus round was the Three Bags Full game which became popular in Australia during the first half of the 1990s.