Generally speaking, most games in a standard casino fall into one of three categories: table games, slot machines or video poker machines. This is true online as well as offline. Examples of game types that doesn't fit into these categories are scratch cards, lottery games, and sports betting, which may be available in some casinos, especially online. Arcade-style games, such as grab games, are available in some brick-and-mortar casinos.
Examples of popular table games are Roulette, Black Jack and Craps. Many casinos also offer at least one type of casino poker, such as Caribbean Stud Poker. When you play casino poker, you play against the house – not against other players.
While slot games and video poker games are both screen games, there is one big difference between them: video poker have a skill element while virtually all slot machines are 100% based on luck. Even when you do get to make decisions in a slot game, such as selecting one of three treasure chests, the result is determined by the Random Number Generator.
Playing Black Jack

Black Jack is a game that can be played with one or more standard 52 card decks. The goal of the game is to get a hand worth more than the dealer. The highest ranking hand is a hand consisting of an ace + a 10 point card.
Black Jack use a point system where each card within the 2-10 span is worth its numerical value. Jack, Queen and King are worth 10 points each, while the Ace is worth 1 point or 11 points, depending on what's best for the hand at any given moment.
If a hand reaches 22 points or more in Black Jack, it is immediately forfeited, the bet is lost and the hand is removed from the game. If the dealer's hand reaches 22 points or more, all player hands that are still in the game automatically wins, no matter how poor they are.
One appealing aspect of Black Jack is that it's a game of both skill and luck. As a player, you get do make decisions regarding your hand during a round, and those decisions will impact the outcome of the game.
Playing Craps
Craps is a dice game that started out as a street game and eventually moved into the casino. It is played with two dices and the players can make many different bets. In this way, craps is actually a bit similar to Sic Bo, but a bit more complex since the dices can be cast multiple times in round of Craps.
Playing Roulette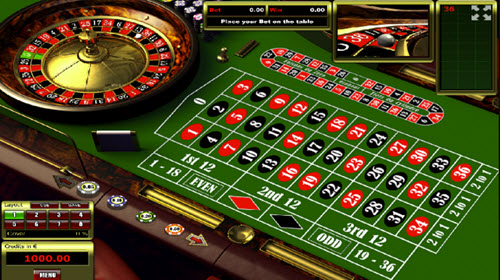 The croupier will spin a ball inside a spinning wheel. Eventually, the ball will lose speed and come to settle in one of 37 or 38 numbered chambers located around the wheel. There are 37 chambers (0-36) on French and European roulette wheels, while the American roulette wheel have 38 chambers since it has a double-zero (00) in addition to the single-zero (0).
The basic bet on the roulette table is a bet on exactly which number the ball will come to rest on. If you think that it will be number 7, you bet on number 7, and so on. But many other types of bets are available as well. Instead of having to put one casino chip on each number that you want to bet on, you can do multiple-number bets, where your bet is automatically spread over a pre-determined selection of numbers. A bet on "2nd dozen" will for instance spread your bet over all the numbers 13-14-15-16-17-18-19-20-21-22-23-24.
Playing Caribbean Stud Poker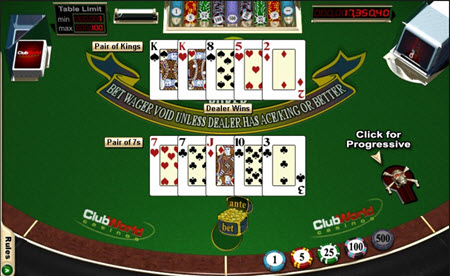 Caribbean Stud Poker is based on Five Card poker, but you play against the house – not against the other players at the table. After making the starter bet, you get five cards from the dealer and have no way to improve that hand. You just need to decide if you want to stay in the game or not. If you forfeit the hand, you lose your bet. If you decide to stay in the game, you must make a second bet, twice the size of the starter bet.
Caribbean Stud Poker tables will usually have a progressive jackpot connected to them. If you want to have a chance to win it, you must make a sidebet. If you get a good enough poker hand, you win something from the progressive jackpot – either the whole jackpot, a percentage of the jackpot or a fixed amount from the jackpot; depending on how great your hand is.
Playing Slot Machines
In an average casino, a large chunk of the floor space will be dedicted to slot machines – also known as one armed bandits. Once upon a time, these machines were fully mechanical and pulling the lever ("the arm") on the side was necessary to get the reels spinning. Today, finding mechanical machines is usunual; most casinos have switched to fully electrical slot machines where the physical reels have been replaced by a computer screen. On some machines, the "arm" has been left and can be used to start a game, but you can just as well use the buttons in front of you. Using the lever instead of pushing a button have absolutely no impact on the outcome of the game.
Playing Video Poker

Video poker is not played against other players nor against the hand of the dealer. Instead, you know beforehand exactly how good your hand needs to be for you to get paid.
Almost all video poker machines follow the same routine: You make your wager. You get five cards, dealt face up. You indicate how many you want to replace (0-5) and your order is carried out. Now, you have your final hand. If it is good enough, you get paid.
Examples of popular video poker games:
Jacks or Better
Deuces Wild
All American
Joker's Wild
Tens or Better