Always check the terms and conditions before you accept an online casino bonus. Most bonuses will, for instance, come with wager requirements, and accepting a huge bonus with an enormous wager requirement can be a bad idea if you are a small-scale hobby player who will find it difficult to actually full fill this requirement without making multiple new deposits.
Deposit bonus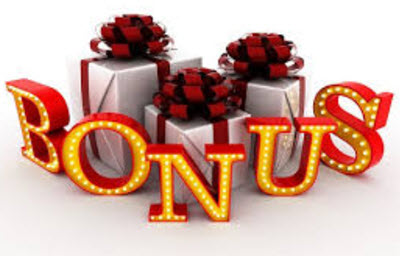 A deposit bonus is a bonus you get after making a deposit.
The size of a deposit bonus is often linked to the size of your deposit, e.g. 50 percent, 100 percent or 200 percent of your deposit. There is usually a ceiling to prevent the bonus from getting too big.
Example: The offer says that you get 100% bonus on your deposit up to a maximum of €400.
This means that if you make a €200 deposit, you get a €200 bonus. A €400 deposit will give you a €400 bonus. A €500 deposit will give you a €400 bonus since €400 is the cap for this offer.
Almost all casinos offer a deposit bonus on your first deposit.  These bonuses can vary a lot in size. It is worth spending some time comparing different bonuses before you chose which casino the play in. You can compare the bonuses from a large number of different casinos by clicking here.
Reload bonus
In some casinos, a deposit bonus for existing players is called a reload bonus, since you make a new deposit to refill your account.
Some casinos will send you a special reload bonus offer every time they notice that your casino account balance is getting low since they want to entice you to deposit money again.
No deposit bonus
A no deposit bonus is a bonus that you get without having to make a deposit. They are more unusual than deposit bonuses and also tend to be smaller.
Many online casinos have small no deposit welcome bonuses. Register an account, and you will get a small welcome bonus (e.g. €25) without having to deposit any money first.
Mobile casino bonus

Some casinos have special bonus offers that are only available to players who access the casino through a mobile app. It can, for instance, be a welcome bonus for new app users or a welcome bonus to those who try out the mobile version of a new game that just arrived to the app.
VIP bonus
Many casinos have special VIP bonuses for their VIP players. Normally, there are three ways to become a VIP player:
Make a large enough deposit
Wager enough money during a certain time frame, e.g. a month or 90 days.
Climb to the top-level of the membership club
Don't get lured in by a huge welcome bonus
Before you accept any casino bonus, always check the terms and conditions and take a look at the full picture rather than just listen to the siren song of a huge casino bonus. Casinos are especially prone to offering up huge welcome bonuses, since they want to get more players to sign-up.
When choosing which casinos to sign up with, letting the size of the welcome bonus make the decision is rarely a good idea. You might, for instance, realise too late that you have made a deposit into a poorly functioning or outright dishonest online casino, and now your money is stuck there until you fulfill a ridiculously high wager requirement. And you can only play slots and scratch cards even though you prefer Black Jack, because slot and scratch card wagers are the only ones that count against the wagering requirement.
Our advice is that you start by looking for casinos that suit your preferences, e.g. when it comes to game selection and banking methods. Also, make sure that they are reputable. Then, you can start looking at stuff that might have a long-term impact on your bankroll, such as continuous promotions for existing players. The welcome bonus should be the icing on a very good cake – not the icing used to lure you into taking a bite out of a bad cake.